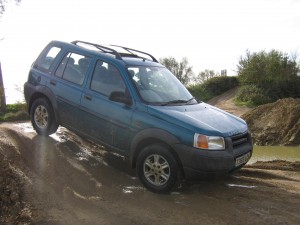 Stel je dit. Het is een natte dag. Je bent op uw lokale 4 × 4-track met uw trouwe Freelander. Plotseling merkt je dat je zat op de top van wat als een enorme, modderige druppel die lijkt voelt te gaan recht in een meer! Oeps! Je hart klopt. Als je keek naar dat van de andere kant kon je zien dat wat nodig was was een scherp links draaien onderaan de heuvel om u te houden van verdrinking in de diepten van het meer. Het leek veel gemakkelijker uit die hoek, opzoeken; niet deze een, op zoek naar beneden!
OK, je denkt, wat hier nodig is om te voorkomen dat verdrinking ondersteboven in wat kan monster besmet water, is een langzame, gecontroleerde afdaling. Maar als je je voet op de rem gewoon zul je pallet – Nou, dat is wellicht niet zo slecht, misschien u een 360 draai zal doen als je naar beneden de heuvel dan ten minste u niet de onmiddellijke verdrinking komst ziet!
Dus, misschien kun je gewoon laten de versnellingen die de spanning. Maar deze heuvel is STEIL! De versnellingen echt houden u langzaam genoeg om die hoek onderaan? Oh, de monsters wachten, weet je zeker dat dat was niet een die net stak haar hoofd uit het water?
Dan herinneren u de magische gele knop op uw gear lever. Opwinding, neemt in plaats van vrees, zoals u druk op de knop en het groene licht van een descenderende voertuig op uw dashboard verschijnt. U deelnemen aan de eerste versnelling en versnellen net genoeg voor de neus van uw Freelander Tip over de bergkam. Vervolgens verwijdert u uw voeten uit alle pedalen. Wow! Langzaam en zachtjes, met perfecte beheersing maakt uw Freelander haar weg naar beneden de helling. Uh uh, was dat een kleine slip? Nou als het was dat uw Freelander heeft het nu allemaal onder controle. Hier komt de onderkant van de heuvel en die strakke links zet – ahh, kind ' s spelen – geen diner voor u vandaag monsters van het meer!
Dus dat is wat uw Hill Descent Control (HDC) is voor. De magische knop die uw afdaling onderaan een heuvel, in beide eerste of achteruitversnelling bepalen zal (misschien moet ik ga terug en probeer het in omgekeerde richting u bij jezelf denkt, of misschien u dat bewaren voor een andere dag!). Wanneer de Hill Descent Control-knop (HDC) in een van deze tandwielen brandt dan uw Freelander zo goed als overneemt. Het werkt met het ABS systeem te geven u een gecontroleerde afdaling naar beneden die modderige, steile heuvel en tractiecontrole – alles wat u hoeft te doen is sturen!
Na deze succesvolle afdaling waarom niet proberen een reis over de wrat hog modderbad? Umm, Hill Descent Control (HDC) werkt niet op een vlak terrein in vier voeten van zinkende modder – nu was waar het nummer voor dat herstel van de trekker?