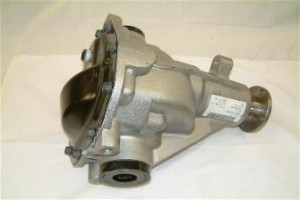 Freelander 1 (to 2006) Reconditioned Rear Differential
£425 incl. VAT

IS YOUR FREELANDER WHINING FROM THE REAR OR ARE YOUR FRONT WHEELS SPINNING AND YOU APPEAR NOT TO HAVE FOUR WHEEL DRIVE WHEN YOU NEED IT?
Do you want your beloved Freelander to run smooth and quiet again and grip when you need it to?
We Can Help!
If your Freelander Rear Differential is damaged we can supply you with a Reconditioned Unit.
These units are for the Freelander 1 (1997 – 2000)
WHAT HAS CAUSED MY REAR DIFFERENTIAL TO BE DAMAGED?
In most cases damage to your Rear Differential is caused by mismatched tyres or by not replacing your viscous coupling unit (VCU) in a timely manner.
It is very important on a Freelander Drivetrain for the tyre sizes to be matched between the front and rear axles. The difference in tyre diameter, and thus the rolling radius of the wheel, causes a constant difference in the rotational speed of the front and rear prop shafts; this difference has to be compensated for by the VCU slipping at a higher rate than that which it was designed for. The extra rotations cause the VCU to heat up and become stiffer, which is what they are designed to do off road if the wheels start to slip and this transfers drive to the other wheels, but as this is happening while driving in a straight line on a road it has the same effect as an old stiff VCU and transfers extra load to the entire transmission line, eventually resulting in Rear Differential and / or IRD failure. This constant heating also cooks the VCU so that it does not operate correctly even when correct tyres are fitted.
You can measure the diameter the tyres, but this can be slightly misleading, especially on worn tyres as the tyre may not be evenly worn from the inside to outside edge, so the best way to check is to check the external temperature of the VCU after driving it for a few miles on a relatively straight road, it should be virtually cold. If it's slightly warm or hotter, then the wheels have a ratio problem.
Mismatched tyres can occur from fitting different size profile tyres to the front of the car compared to the rear; putting new tyres on one end of the car but leaving the old worn tyres on the other or low tyre pressures and vehicles that have done a lot of towing (rolling radius of tyre is less due to the weight of the trailer compressing the tyres). A difference of just 5mm in diameter dramatically increases the rotational differences between the front and rear axles, so it is imperative that the tyres are always matched. Always change all 4 tyres at the same time, rather than trying to save a few pounds by changing the fronts and getting a few more miles out of the rears. The variations between makes of tyres with the same profile can be even more than this, so tyre makes should also be matched.
The viscous coupling unit (VCU) is a sealed unit, half way along your prop shaft, that contains a viscous fluid. Since this is a sealed unit it is not possible to check, or routinely change, the viscous fluid. It is, therefore, recommended you change the VCU approximately every 70,000 miles. If damage has occurred to your rear differential or IRD unit you should always change your VCU as this is likely to be the cause of the damage.
HOW CAN I TELL IF MY REAR DIFFERENTIAL NEEDS REPLACING?
A problem with the Freelander 1 rear differential can show itself in two different ways.
1) You may hear a whining noise from the rear of your Freelander, a little like road noise, which tends to get louder when you place the Freelander under load, such as when you are accelerating.
2) You lose the four wheel drive, so when you need grip the front wheels start spinning and you just skid around, rather than get out of that muddy field.
PLEASE NOTE: 
WHEN YOUR REAR DIFFERENTIAL HAS A PROBLEM IT CAN GET VERY HOT AND THEY HAVE BEEN KNOWN TO EXPLODE.
If you want to be certain your rear differential is the problem, remove the prop shaft and check for excessive play in the pinion from the rear differential. Then you can drain some of the oil from the rear differential and check for pieces of metal in the oil from the damaged bearings.
Warning: If your rear differential failed because of your VCU or mismatched tyres then you will need to either replace the VCU and tyres  at the same time or leave the prop shaft off and operate in front wheel drive only, otherwise you will damage your replacement rear differential all over again – and your warranty will not cover you because it will have been damaged by an external component!
WHAT IS A RECONDITIONED REAR DIFFERENTIAL?
Our reconditioned Rear Differentials have been fully dismantled, cleaned, inspected and fitted with all new bearings, and seals.
Everything in the unit is inspected and tested to ensure it is fully functional and worthy of our unlimited mileage 12 month warranty.
SHOULD I CHANGE MY VISCOUS COUPLING UNIT (VCU)?
If you are worried about whether you need to replace your VCU check the mileage on your Freelander. If you have done over 70,000 miles and you have no record of the VCU having been changed then this is likely to have been the cause of damaging your Rear Differential. If your tyres are mismatched this is likely to have wound up your VCU and caused the damage to your rear differential, in this case you will need to change the VCU to avoid any further damage to occur from a stiff VCU.
Any concerns just give us a call on
+44-780-9575-421
to discuss your symptoms and / or make an appointment for us to have a look at your Freelander.
We also supply new and reconditioned viscous coupling units (VCU's) and rIRD units, check out our other listings  – so no matter what damage may have been done, we can fix it!
SHOULD I CHANGE MY TYRES?
The most likely cause of rear differential damage is a mismatch in tyres. If you do not address this issue you will experience the same damage all over again. The best way to check if a mismatch in tyres is causing a problem is to check the external temperature of the VCU after driving it for a few miles on a relatively straight road, it should be virtually cold. If it's slightly warm or hotter, then the wheels have a ratio problem and you will need to change your tyres. If you do only change two of your tyres always put the newest tyres on the rear and do the VCU temperature test again to ensure the VCU is remaining cold.
CAN YOU FIT MY REAR DIFFERENTIAL FOR ME?
Certainly we can fit your Rear Differential for you.
Take away all the hassle of getting your Freelander back on the road, bring it to us and we will:
Supply a reconditioned rear differential;
Fit your reconditioned rear differential;
Fill your rear differential with the correct oil;
Check your drivetrain for any other issues which may affect your newly fitted rear differential.
and have you back on the road again in no time!
The cost for fitting the rear differential is £150 incl. VAT, making the total with the unit £575 including VAT.
If your car does not drive and you need to get it to us to fit your reconditioned rear differential why not try:
1. Phoning your breakdown recovery service, if you have one. These will sometimes transport your car for free, or at a reduced rate.
2. Giving us a call on 0780 9575 421 and we will arrange to transport your car to us for a cost of £1.80 per mile (calculated one way only to IP26 4RH). We can collect from anywhere in Europe (ferry crossings will be charged additionally where applicable).
The cost of supply only for the reconditioned rear differential, excluding shipping or fitting, is £425 incl. VAT.
DO YOU HAVE THE REAR DIFFERENTIALS IN STOCK?
We recondition the rear differentials to order. Unfortunately, due to the high demand for units we can have a bit of a waiting list – often it may only be a couple of days, however during high demand periods it can be over a week.
For an estimate of when your rear differential can be delivered give us a call on +44-780-9575-421 or send us a message.
DO I NEED TO RETURN MY DAMAGED REAR DIFFERENTIAL TO YOU?
If you are within Europe, yes, these Rear Differential are sold on an exchange basis. You will need to return your damaged rear differential to us or pay a £200 non-return surcharge.
Your damaged rear differential is suitable as an exchange unit provided there are no cracks or holes in the casing.
The shipping costs include the cost of returning your damaged rear differential to us – so there is no extra to pay for this. We will organise the courier, all you have to do is tell us when it will be ready to be collected.
If you want your reconditioned rear differential delivered before returning your damaged unit (so the old one can be taken out at the same time the new one is fitted), no problem. Please note, if you do not return your damaged rear differential within two weeks of receiving your reconditioned unit, or pay the £200 surcharge, we will invalidate your warranty.
If you are outside of Europe you do not need to return your damaged rear differential, the non-return surcharge is included in the shipping price, as is the deduction of VAT.
SHIPPING & RETURN POLICY:
The following shipping prices include shipping the reconditioned rear differential from our workshops to you, and your damaged rear differential from you back to our workshops:
UK Shipping £35
European Shipping £95 (estimate – see below*)
For the rest of the World the shipping costs include the shipping cost, the non-return surcharge (as it is not economically feasible to ship the old units back to us from outside of Europe) and the deduction of the VAT on the unit. The shipping prices are:
Australia / USA / Canada £165 (estimate – see below*)
Rest of The World Shipping £215 (estimate – see below*)
WE SHIP WORLDWIDE
*Please note, some remote areas may be subject to a shipping surcharge. If your country / area may be considered remote please contact us with your address for a shipping quotation.
We ship these units using a courier service, generally UPS for UK shipping and UPS or TNT for Europe and the rest of the World. Collection from our workshop is welcome.
UK customers will generally receive their item the next day after despatch. Most of the rest Europe will take between 2 and 5 days. Please note, these units are reconditioned to order and although we can generally satisfy an order within two to three days there can be as much as a two week waiting list during busy periods.
If you think your country / area is remote please send  a message to sue@freelanderspecialist.com, or call +44-780-9575-421 for a shipping quote.
WE WILL NEED YOUR TELEPHONE NUMBER IN ORDER TO SHIP THIS ITEM, please enter it on the message section of your payment or send us a message after payment. Your shipment will be delayed if we do not receive a telephone number. 
Your rear differential can be returned to us within 14 days for a full refund, excluding postage, provided it is in the same condition you received it and it has not been fitted to your vehicle.
WHAT IF SOMETHING GOES WRONG?
We don't like things going wrong, and you certainly wouldn't! Quality is important to us, but in the event that something does go wrong you have our
12 Month Unlimited Mileage Warranty
Our warranty covers you for a replacement rear differential in the event of any failure of a component due to faulty parts or workmanship.
IMPORTANT: Because it is common that damage to the rear differential is caused by the VCU or mismatched tyres, your warranty will only be valid if:
1) you either replace the VCU at the same time OR leave the prop shaft off your Freelander – leaving the same VCU on your vehicle will almost certainly damage any replacement rear differential in a short period of time. If you replace your VCU please ensure you keep your receipt to validate your warranty.
2) Your tyres are matched as mismatched tyres can wind the VCU up and cause damage to your newly replaced rear differential – it could also affect your IRD / transfer box.
HOW CAN I PAY FOR MY RECONDITIONED REAR DIFFERENTIAL
The painful bit I know! But we like to give you as much choice as possible, so we accept:
Cash (If you are collecting it)
All Major Credit Cards (including AMEX) – over the phone or on collection
Direct Bank Transfer
Paypal
Cheques – provided they clear before delivery or collection
Give us a call on
+44 780 9575 421
to discuss your needs.