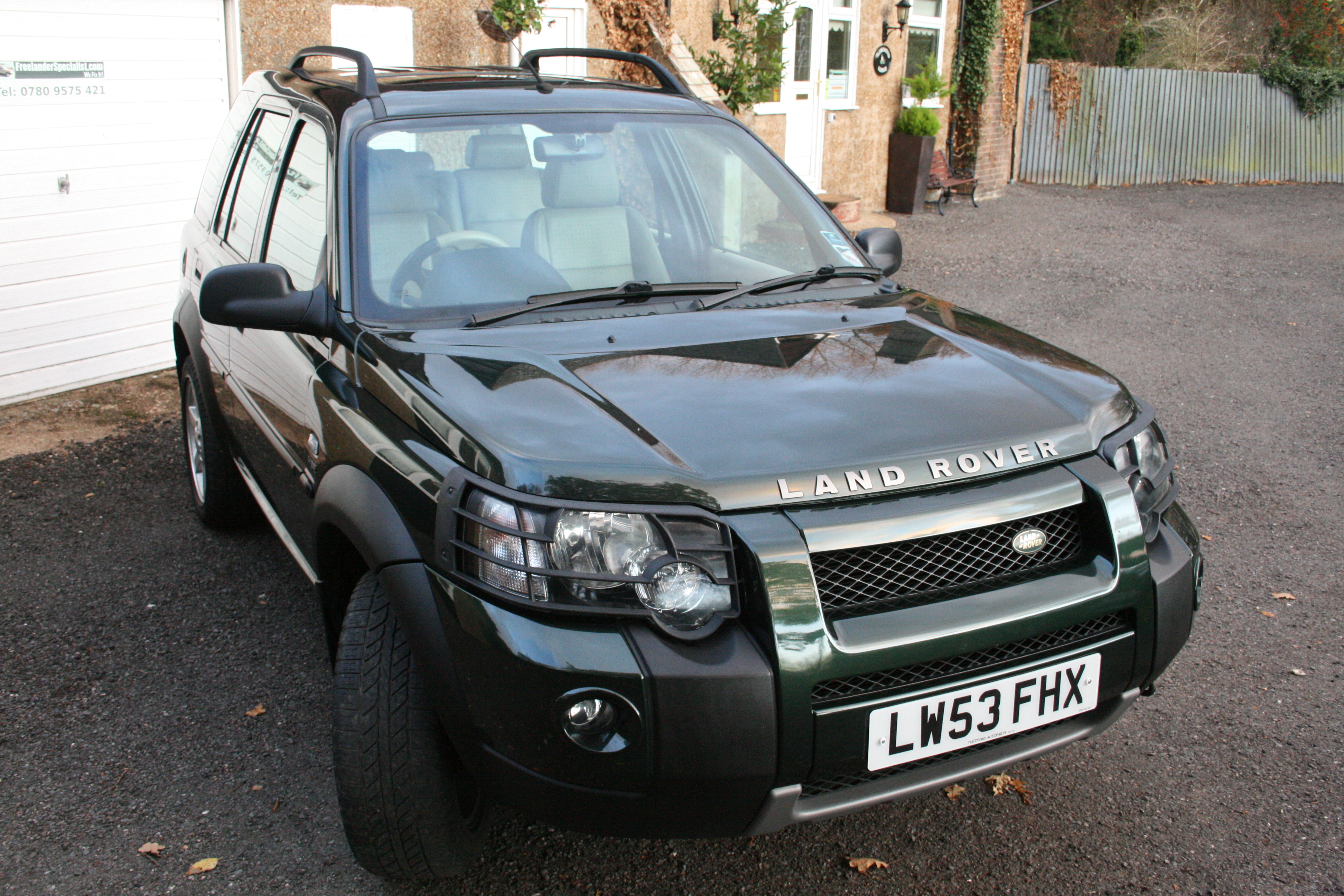 NOW SOLD
2004
Landrover Freelander
TOP OF THE RANGE
HSE
12 Months MOT
Tax to 31/12/2011
Low mileage (50,466)
Service History
5 Door


Leather Interior
Heated Seats
Air Conditioning
Folding Mirrors
Harman Kardon Sound System
CD Changer
Parrot Blue Tooth Fitted

Head Gasket Replaced with fully reconditioned cylinder head and modified multi layer gasket 02/12/2011
Water Pump Replaced 02/12/2011
Thermostat Replaced 02/12/2011
Cambelt replaced 27/01/2011
Only 1 Previous Owner
ONLY £5,995 ono
If you're looking for a car for work, for the family, a bit of weekend adventure and  a whole lot of fun – here it is!
This is a superb Freelander. It looks good, feels agile, goes well, nicely finished and well equipped – this is a top of the range Freelander. You can understand why they have become the ultimate in flexible motoring – toughness, durability, comfort and elegant style all wrapped into one car. Not only that but you have an ideal workhorse due to its toughness; a perfect family car with plenty of space; a great tourer due to it being so incredibly comfortable – it is the most comfortable vehicle I have ever driven – AND a great toy! (Although I always thought these cars are too nice to get it dirty!)
This vehicle is hugely capable and highly desirable – on the motorway it just cruises beautifully, and on the small roads it's handling is just right – not too touchy, not too insensitive, it feels solid on the road.
The driving position – I love being sat up higher than most vehicles – gives you nearly no blind spots, loads of leg room both in the front and the back – your rear passengers will feel as though they're in a limo!
At the wheel of this vehicle you feel a little set apart – and not only because of the high driving position, and the fact that all your friends are envious! The detail touches help. The way the window at the rear goes down so you can load your shopping without having to open the back door – or of course give your dogs plenty of air if you have any. All of the useful storage areas and flat surfaces that seem to exist for everything you could possibly want to carry, including the innovative drinks holders in the doors. Fantastic leather seats. All electric windows and mirrors. Air conditioning. Parking sensors. Hill descent control. Beautiful alloy wheels. Stylish roof rails. Fantastic Harman Kardon sound system including amplifier and sub-woofer (nice and securely tucked away). Six CD changer. Parrot blue tooth for your mobile phone. Two keys and two fobs … I could go on and on.
The rear seats fold down better than anything I've come across, allowing for tonnes of luggage space if you have bulky items to transport.
What is really so great about this Freelander is that it is a real head turner, a fantastic looking vehicle that looks far more expensive than it actually is – both on the inside and the outside.
This is a top of the range model – they don't come any better than this!
This Freelander has a 1.8 litre Petrol engine, so it's not your usual gas guzzling 4×4.
The Freelander has MOT until December 2012 (the only advisories being two of the tyres), and the service history stamps show:
No date given    3,378 miles
25/01/2007   17,309 miles
24/01/2008   24,773 miles
03/02/2011   44,678 miles
02/12/2011   50,466 miles

At 44,678 miles the Freelander also had the Cam belt changed.
At 50,466 miles the Freelander also had a new head gasket with a fully reconditioned cylinder head and a modified multi layer gasket; a new water pump and a new thermostat.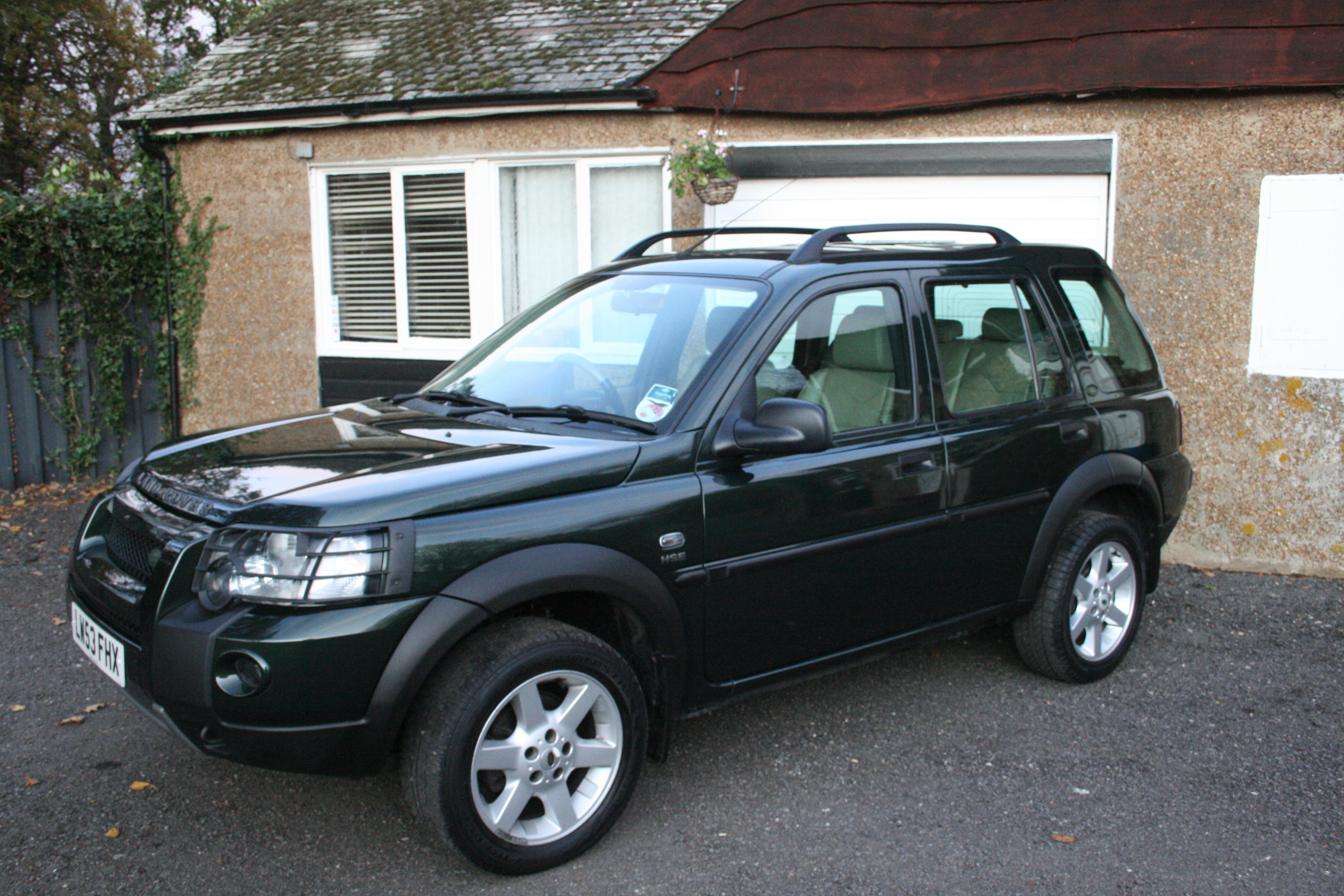 The Freelander is mechanically and cosmetically sound – no funny noises or rattles. There is no sign of rust, as can be seen on the photos. This is a truly beautiful vehicle.
And it comes with our 30 day warranty against any mechanical defects.
This Freelander has such style, comfort and versatility, no wonder they are the best all-rounders in their class. It is a solid, quality 4×4 at a bargain price.
Excellent value and a stunning car – go on, give it some fun – you know you want to!
All viewings welcome.
Please give me a ring on
0780 9575 421
to arrange a convenient time.
[nggallery id=21]