Last week Nobert and I visited Denmark to repair some Freelanders and Rovers (yes, we fix Rovers too, infact we will fix anything that has the K-series or KV6 engine in it).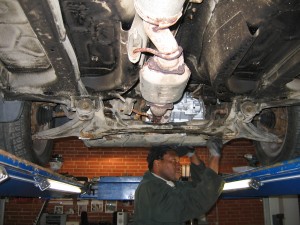 We were privileged to be given fantastic accommodation and hospitality by one of our customers – thank a million Rene and Helle – and spoilt with scrumptious Danish pastries all along the way.
It was a real bus mans holiday, and were fortunate enough to complete all our jobs a day early so we had a little time to explore Denmark. In fact we will be visiting again toward the end of this month (April 2010) to do some more work – so if you are in Denmark and you need some help with your Freelander or Rover then just drop us an email (sue@freelanderspecialist.com) or give us a ring (+44-780-9575-421) and we will see if we can help.
We enjoyed our experience so much – as they say "a change is as good as a rest" – that we have been thinking of doing the same thing in other countries. It needs to be somewhere that we can drive to because of all the tools – with a ferry crossing included of course, since England is an island! So if there are two or three of you in a similar area who need work done on their Freelanders or Rovers – IRD units, VCU's, head gaskets etc. – then why not get in touch, and perhaps we can make arrangements to visit your country and do the work there.