ONLY £495 (incl. VAT)
Is Your Freelander 2 whining from the rear?
Do You Want Your Beloved Freelander to run smooth and quiet again?
We Can Help!
If your Freelander 2 Rear Differential is damaged we can recondition it for you.
We can recondition all Freelander 2 rear differentials from 2006 onwards.
How can I tell if my rear differential needs reconditioning?
Generally you will hear a whining noise from the rear of your Freelander, particularly under acceleration.
What is involved in reconditioning my Rear Differential?
Our reconditioning service involves your rear differential being fully dismantled, inspected and fitted with all new bearings and seals, using the uprated bearings.
Once we receive your rear differential we will generally recondition it within two days. Within mainland UK we use a next day courier; however, if you are outside this area the shipping times will vary.
Can you ship Worldwide?
Yes, we will ship anywhere in the world (providing we can find a courier who will do it!)
The shipping prices, fully insured, which include shipping your rear differential to us in the UK and then shipping it back to you once we have reconditioned it, are:
Country Price
Austria £ 95
Andora £165
Belgium £ 95
Bulgaria £140
Cyprus £140
Czech Rupublic £140
Denmark £ 95
Estonia £140
Finland £ 95
France £ 95
Germany £ 95
Greece £160
Holland £ 95
Hungary £140
Ireland £ 95
Italy £ 95
Liechtenstein £160
Lithuania £140
Luxembourg £ 95
Malta £195
Monaco £140
Norway £140
Poland £140
Portugal £ 95
Romania £140
Slovakia £140
Spain £ 95
Sweden £ 95
Switzerland £160
Ukraine £140
U.K £ 35
If your country is not on this list give us a call on
+44-780-9575-421
or email sue@freelanderspecialist.com
for a shipping quotation.
Please note, if you are outside the EU then customs charges will apply.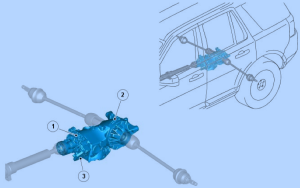 IMPORTANT
To ensure no damage is done during transit we request that you remove both the haldex (no. 3 on the above diagram) and the active on demand coupling (no. 1 on the above diagram), and send us ONLY the rear differential (no. 2 on the above diagram.) Please drain the rear differential of oil and package it securely as the courier will not cover damage done in transit due to inadequate packaging.
Do you recondition my existing Rear Differential?
Yes, there are so many variations for the Freelander 2 rear differential, to ensure you have the correct unit we recondition your existing rear differential.
We aim to complete the reconditioning of your rear differential within two days.
The shipping costs include the cost of shipping your rear differential to us and the cost of shipping it back to you once it has been reconditioned – so there is no additional costs involved. We will organise the courier, all you have to do is tell us when it will be ready to be collected (if you would prefer to organise your own shipping, or deliver or collect it in person, this is no problem.)
How do I get my Rear Differential fitted?
Need your Freelander 2 reconditioned Rear Differential fitted? For the complete hassle free service, bring your Freelander to us and we will fit the Rear Differential for you.
Take away all the hassle of getting your Freelander back on the road, bring it to us and we will:
Recondition your Rear Differential
Fit your reconditioned Rear Differential including all oils
and have you back on the road again in no time!
The total fitted cost (including the Rear Differential Reconditioning and all oils) is:
£750 (incl. VAT)
If you do not require fitting and just want your rear differential reconditioned, the cost, excluding shipping, is:
£495 (incl. VAT).
Do you have the Rear Differentials in stock?
Since there is such a large number of variations in the Freelander 2 rear differentials we do not keep these in stock. To ensure you are supplied with the correct unit for your vehicle we recondition your existing rear differential.
For an estimate of when your Rear Differential can be delivered give us a call on 0780 9575 421.
How can I pay for my reconditioned Rear Differential?
The painful bit I know! But we like to give you as much choice as possible, so we accept:
Cash (If you are collecting it)
All Major Credit Cards – over the phone or on collection
Direct Bank Transfer
Paypal
Cheques – provided they clear before delivery or collection
What if something goes wrong?
We don't like things going wrong, and you certainly wouldn't! Quality is important to us, but in the event that something does go wrong you have our
12 month, unlimited mileage warranty.
For more information or to make a booking
Please call
Sue on +44-780-9575-421
or email
sue@freelanderspecialist.com