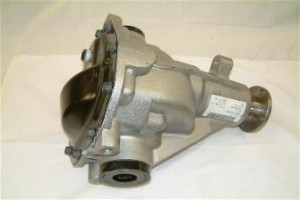 Freelander 1 Brand New Rear Differential
£750 incl. VAT

Is Your Freelander whining and grinding from the rear?
Do you want your beloveded Freelander to run smooth and quiet again?



We Can Help!
If your Freelander Rear Differential is damaged we can provide you with a brand new unit.
These units are for the Freelander 1 (1997 – 2006)
What has caused my rear differential to be damaged?
In most cases damage to your rear differential is caused by not replacing your VCU in a timely manner.
The VCU is a sealed unit, half way along your prop shaft, that contains a viscous fluid. Since this is a sealed unit it is not possible to check, or routinely change, the viscous fluid. It is, therefore, recommended you change the VCU approximately every 70,000 miles.
Over time the viscous fluid in the VCU becomes thick and the prop shaft no longer rotates at the required speed. This puts tremendous strain on the drive train, and, if not replaced in a timely manner, will eventually cause damage to the rest of the drive train – such as your rear differential.
The other common cause of rear differential damage is a differing ratio between the front and rear tyres causing excessive strain to be put on the drive train. The ratio difference is cause by fitting different radius tyres to the front compared to the rear. This can be done by using incorrectly sized tyres; worn tyres on one end of the vehicle and new tyres on the other end (you should always replace all four tyres at the same time on a Freelander); or running very low tyre pressures on one end of the vehicle. A radius difference of just 10mm can destroy a rear differential in just 5 miles!
How can I tell if my rear differential needs replacing?
Generally you will hear a whining or grinding noise from the rear of your Freelander, particularly under acceleration.
If the problem is your rear differential bushes, rather than the rear differential itself, then you will experience a whining noise which increases with road speed.
Warning: If your rear differential has failed because of your VCU then you will need to either replace the VCU at the same time or leave the prop shaft off and operate in front wheel drive only (this is not possible with a 2.5 litre petrol V6 Freelander), otherwise you will damage your replacement rear differential again within a short period of time.
Can you ship Worldwide?
Yes, we will ship anywhere in the world (providing we can find a courier who will do it!)
The shipping prices, fully insured, including shipping the brand new Rear Differential from us in the U.K. to your country.
Country Price
Austria £ 45
Andora £80
Belgium £ 45
Bulgaria £70
Cyprus £70
Czech Rupublic £70
Denmark £ 45
Estonia £70
Finland £ 45
France £ 45
Germany £ 45
Greece £80
Holland £ 45
Hungary £70
Ireland £ 45
Italy £ 45
Liechtenstein £80
Lithuania £70
Luxembourg £ 45
Malta £95
Monaco £70
Norway £70
Poland £70
Portugal £ 45
Romania £70
Slovakia £70
Spain £ 45
Sweden £ 45
Switzerland £80
Ukraine £70
U.K £ 15
If your country is not on this list give us a call on
+44-780-9575-421
or email
sue@freelanderspecialist.com
for a shipping quotation.
Do I need to return my damaged Rear Differential?
No, there is no need to return your damaged rear differential to us.
How do I get my Rear Differential fitted?
Need your brand new Rear Differential fitted? For the complete hassle free service, bring your Freelander to us and we will fit the Rear Differential for you.
Take away all the hassle of getting your Freelander back on the road, bring it to us and we will:
Suppy a brand new Rear Differential
Fit your brand new Rear Differential
and have you back on the road again in no time!
The total fitted cost (including the Rear Differential) is:
£870 (incl. VAT)
The cost of supply only for the brand new Rear Differential, excluding shipping is:
£750 (incl. VAT)
I'm worried about my VCU?
If you are worried about whether you need to replace your VCU check the mileage on your Freelander. If you have done over 70,000 miles and you have no record of the VCU having been changed then this is likely to have been the cause of damaging your Rear Differential. Any concerns just give us a call on
0780 9575 421
to discuss your symptoms and / or make an appointment for us to have a look at your Freelander.
We also supply reconditioned rear differentials, viscous coupling units (VCU's) and transfer boxes / IRD units – so no matter what damage may have been done, we can fix it!
How can I pay for my brand new Rear Differential?
The painful bit I know! But we like to give you as much choice as possible, so we accept:
Cash (If you are collecting it)
All Major Credit Cards (including AMEX) – over the phone or on collection
Direct Bank Transfer
Paypal
Cheques – provided they clear before delivery or collection
What if something goes wrong?
We don't like things going wrong, and you certainly wouldn't! Quality is important to us, but in the event that something does go wrong you have our
12 month, unlimited mileage warranty.
Our warranty covers you for a replacement Rear Differential in the event of any failure of a component due to unforseen circumstances.
IMPORTANT: Because it is common that damage to the Rear Differential is caused by the VCU, your warranty will only be valid if you either replace the VCU at the same time OR leave the prop shaft off your Freelander – leaving the same VCU on your vehicle will almost certainly damage any replacement Rear Differential in a short period of time. If you replace your VCU please ensure you keep your receipt to validate your warranty. In addition because a differing ratio in the front and rear tyres can cause rear differential damage very quickly your warranty is void if all four tyres have not been replaced at the same time and to the same specification.
Give us a call on
0780 9575 421
to discuss your needs.